GAMSAT Crash Courses: March 17 GAMSAT Courses Brisbane
Don't waste money on 'GAMSAT ebooks' with photocopied slides and Wikipedia articles.
Get 4 real GAMSAT preparation books by Gold Standard GAMSAT: The Only Prep You NeedTM.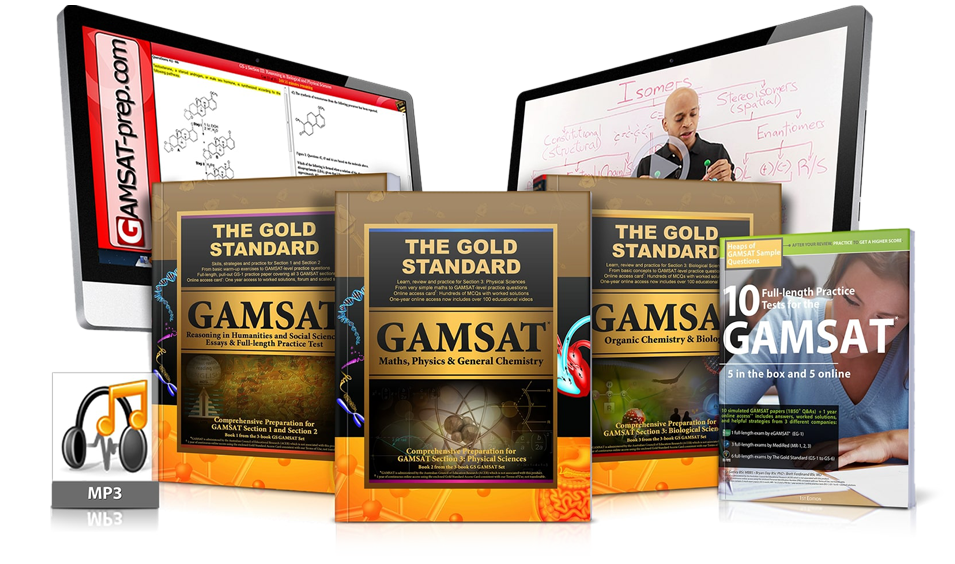 Gold Standard GAMSAT, 2018-2019 Edition
Get excited about learning again.
The new Gold Standard GAMSAT
Live GAMSAT Preparation Courses
Learn from our experience:
Join our 8th year of the best GAMSAT courses on a campus near you.
Live Section 3 (science) Review with the author of The Gold Standard GAMSAT
$250

for 1 full day

$499

for 3 full days
Our live on-campus GAMSAT courses are taught by Dr. Ferdinand using problem-based learning to focus on the most frequently tested GAMSAT topics in biology, physics, general and organic chemistry. NEW free 1-day bridging course: science students are exposed to Section 1 and 2 practice and strategies, while non-science students will review the most basic Section 3 science concepts.
Live GS Practice GAMSAT Test with Interactive Review of Solutions
$250

for 1 full day

$499

for 3 full days
In this course, students sit a full-length practice exam (Gold Standard GS-5 test) on the first day; the second day is for review and problem solving analysis with Dr. Ferdinand. NEW free additional day: further analysis of the mock exam with more problem-based learning. This GAMSAT course provides test-taking experience and strategies for GAMSAT Section 1, 2 and 3.
---
Live GAMSAT courses on campus:
Australia • USyd • UM • UQ • UWA • UA • Europe • NCI (Dublin) • Edin. (Edinburgh) • Imperial College (London)
PURCHASE attendance for a single day for any course ($250):
$250 is as affordable as getting a tutor, but you will be taught by the author of the first GAMSAT textbook, ever.
Gold Standard Complete Package with Live GAMSAT Revision Courses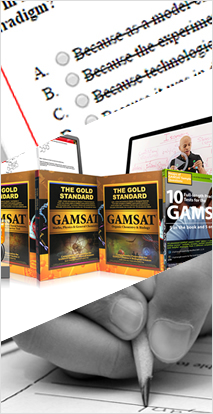 Gold Standard Complete GAMSAT Course including Course Materials and Personal Help: We begin with the basics and take you up to GAMSAT level.

Home Study Course with 3 textbooks and 10 mock exams + Section 1: tips/strategies + over 20 mini-tests + Section 2: 8 of your essays corrected with specific advice for improvements + Section 3: 70+ hours of online videos + GS-Free (an abbreviated, diagnostic practice exam). This program teaches and challenges those with science and non-science backgrounds.
Besides providing you with a study plan, this Complete GAMSAT Course includes personalised comments and tips for your corrected essays and an online forum with a discussion thread for the thousands of practice problems with worked solutions so that you are never left in the dark about a problem (these practice problems include chapter review questions, mini-tests and full-length practice tests). You will not require any other books, notes or revision materials to prepare for the GAMSAT save ACER's practice booklets which are only available separately from ACER.
Your online access begins instantly after payment and continues for up to 12 months. Postage is free to Australia, Ireland and the UK. Dispatch within 48 hours. Free bonus: Gold Standard Medical School Interview online video.
Free Shipping
Dispatch within 48 hours from Sydney, London, NY. Delivery in less than 1 week to Australia, Ireland, the UK, US. For other destinations, click:
International Shipping
.
---
Get ALL of the features described above PLUS more mock exams, 50+ hours of on-campus courses and additional features:
The number of hours (h) of class time are in brackets below:
Section 3 (science) + bridging lectures with problem solving: 3-day course (24 h) with the author of The Gold Standard
Full-length GAMSAT practice test: 3-day course (21 h) with interactive review of solutions
Bonus: We have added an additional on-campus practice exam date (7 h)
An unprecedented 16 exams including 15 full-length GAMSAT practice tests (7 printed papers and 5 different exams exclusively online) + an additional 3 physical practice papers from PrepGenie + GS-Free = more than double the number of full-length GAMSAT practice tests that other courses offer. If you are not sure if problem-based learning is important for GAMSAT preparation, consider ACER's opinion: What is problem-based learning
16 essays corrected (total) with personal comments and guidance
Instant online access and you'll receive your course materials within a few days
Choose to attend the 7 full days of class within 2 years of purchase
This is not just a GAMSAT revision course. Through our books, videos and classes, we cover the simplest assumed knowledge in each domain and we build you up to the most complex GAMSAT reasoning.
Another bonus: Gold Standard GAMSAT Smartphone Apps (iPhone or Android, your choice)
GAMSAT Score Guarantee: get the score you want or repeat online access for free (up to 1 additional year of access)
Your Guarantee also permits you to complete your 16 essays within 2 years if needed
Join our best GAMSAT course for our 8th season live on campus:
Complete GAMSAT Course including Live Classes, All Course Materials and Online Features
Purchase according to the city and/or dates most convenient to you in the table below
Free Shipping
Dispatch within 48 hours from Sydney, London, NY. Delivery in less than 1 week to Australia, Ireland, the UK, US. For other destinations, click:
International Shipping
.
Complete GAMSAT Preparation Course Schedule
($1999)
For 7 full days, join us to expand your knowledge, develop your reasoning, and learn new strategies.
Location
Dates (9 am to 6 pm)
Enroll Now!
GAMSAT Dublin - NCI
January 8, 9, 10 and January 11, 12, 2018
Bonus Session: March 10 (NCI)
GAMSAT Perth - UWA
January 20, 21, 22 and January 23, 24, 25, 2018
Bonus Session: March 10 (UWA)
GAMSAT Adelaide - UA
January 27, 28, 29 and January 30, 31, 2018
Feb 10 (Sat) options: live online or attendance in Sydney
Bonus Session: March 10 (UA)
GAMSAT Brisbane - UQ
February 2, 3, 4 and February 23, 24, 25, 2018
Bonus Session: March 10 (UQ)
GAMSAT Sydney - USyd
February 5, 6, 7 and February 8, 9, 10, 2018
Bonus Session: March 10 (USyd)
GAMSAT Melbourne - UM
February 12, 13, 14 and February 15, 16, 17, 2018
Bonus Session: March 10 (UM)
GAMSAT London - Imperial College
August 21-22 and August 23-24, 2018
Bonus Study Session: August 20, 2018
---
Gold Standard Home Study Course with Live Seminars on Campus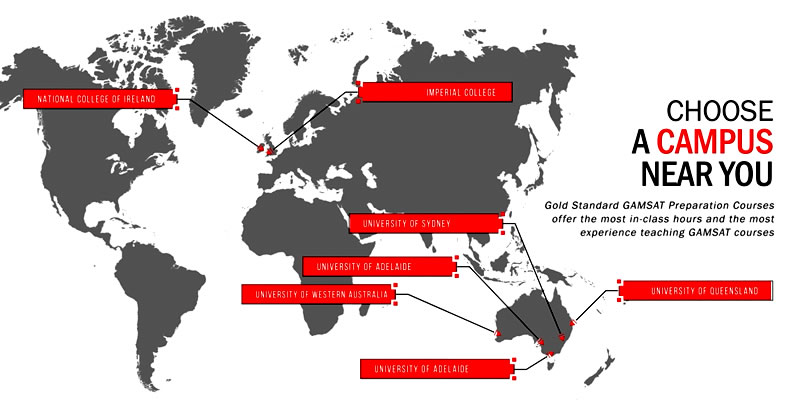 For details about this package that combines our Home Study Course with most of our on-campus lectures (but with a few less features than the $1999 package), please click the most convenient location below:
Australia: Melbourne (UM) • Sydney (USyd) • Perth (UWA) • Brisbane (UQ) • Adelaide (UA)
Europe: Dublin (NCI) • Edin. (Edinburgh) • London (Imp Coll)
Free GAMSAT Resources
Some of the best things in life?!
The best GAMSAT courses/GAMSAT preparation includes an impressive array of free resources prepared by Gold Standard to simplify your GAMSAT review: 100+ free videos containing step-by-step worked solutions to ACER's practice materials (click here: Gold Standard YouTube). That's where innovation begins. Here's more: GAMSAT Question of the Day • Free GAMSAT Practice Test • Monthly Live Webinar • GAMSAT Maths Review • Free GAMSAT Resources Page • Personal Study Schedule • Physics Equation List • GAMSAT Organic Chem Reaction Summary • GPA/GAMSAT Score Requirements